Advantages when investing in Serbia
Why investing in Serbia is an excellent choice?
Interim Trade Agreement with EU
Central European Free Trade Agreement (CEFTA)
Free Trade Agreement with EFTA
Free trade agreements with Russian Federation (0% customs rate), Belarus and Kazakhstan
Free Trade Agreement with Turkey
USA – Generalized System of Preferences
Corporate profit tax is a one of the lowest in Europe – 15%
'Top-Ten' Reasons to Invest in Serbia
Political stability, commitment to European integration and strengthening of regional cooperation.
Commitment of the Serbian Government to reforms focused on the development of the economy – preservation of macroeconomic stability and ensuring stable, predictable and stimulating environment for investment and business operations for the purpose of accelerating economic growth and the creation of new jobs.
Ideal geographical position between East and West, in the heart of Southeast Europe – for production, service and logistics.
Functional infrastructure: transport, energy, telecommunications…
Duty free export of goods produced in Serbia to the market of almost 800 Mio people on the basis of free trade agreements (Stabilization and Association Agreement with the EU, Free Trade Agreements with Russia, Belarus, Kazakhstan, Turkey, CEFTA, EFTA) and other benefits on the basis of bilateral agreements and arrangements with many countries on all continents.
Fast company registration.
Encouraging investment regime (legal security, national treatment of foreign investors and the possibility of repatriation of capital) and favorable tax system.

Lower tax rates than at competing investment destinations: general VAT rate in Serbia is 20 percent, income tax for citizens is 10 percent and profit tax is 15 percent with a proportionate exemption from this tax for investments in fixed assets larger than EUR 8.5 million and employment of at least 100 workers.
Electronic payment system
Implementation of double taxation avoidance agreements with 50 countries
Customs exemptions to foreign investors for the imports of equipment
Financial incentives aimed at new employment.

Available, high quality and competitive workforce (good educational system and a high level of English language proficiency).
High potential for innovations and obvious creativity of people.
High quality of life.
Where to invest:
Priority sectors for investments in Serbia:
Infrastructure.
Agriculture – the whole chain of agribusiness from primary production to processing industries, manufacturing of products with the highest possible degree of completion.
Energy.
Processing industry besides food industry, automotive, metal and electronic industries.
ICT (Information and communication technologies) with many opportunities in the software development due to the high educational proficiency in such industries.
Tourism.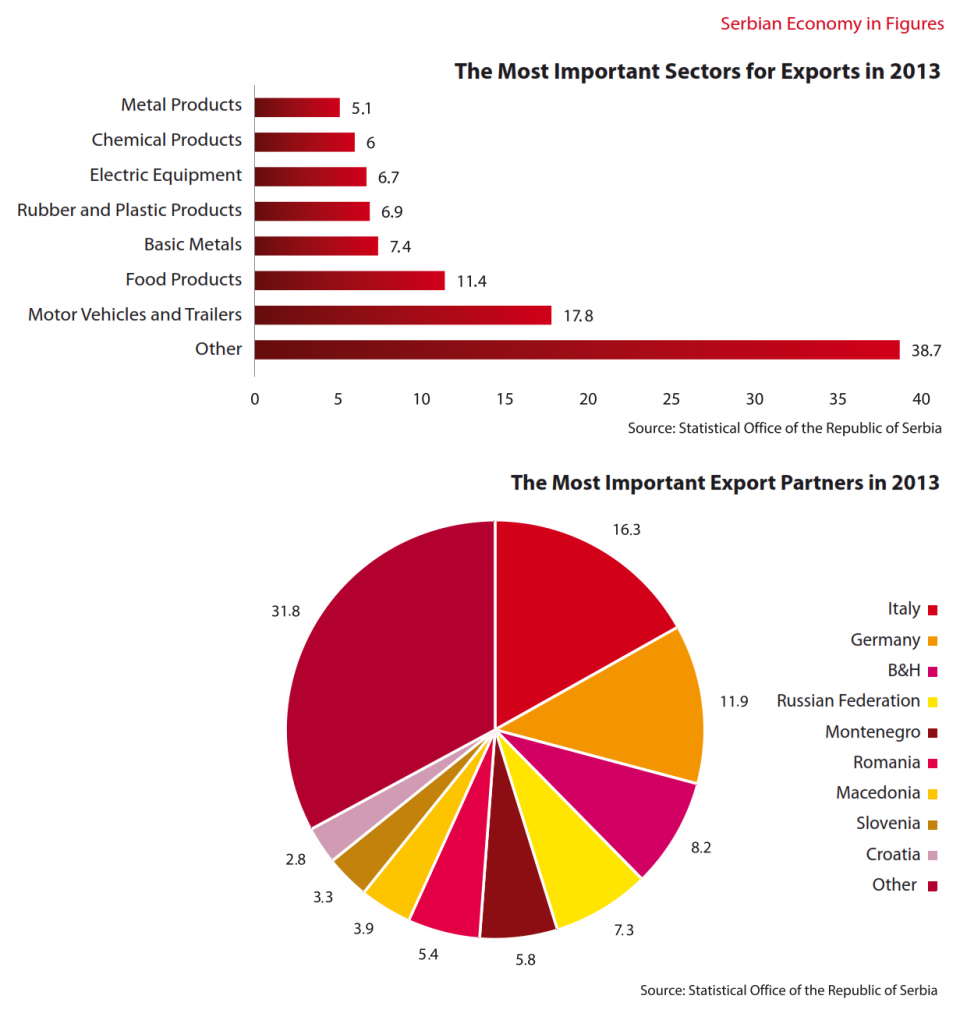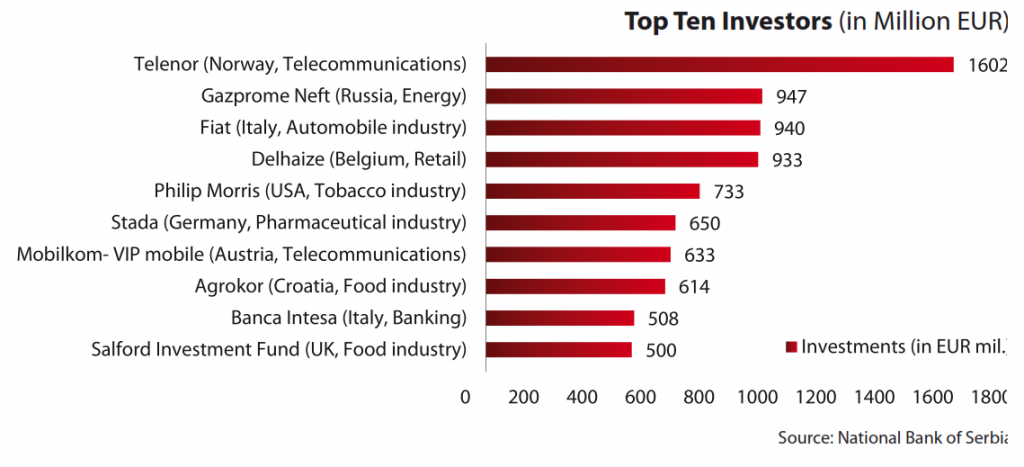 Attracting FDI
Attracting foreign direct investments is set as a priority for the government of Serbia, which provides both financial and tax incentives to companies willing to invest. Leading investor nations in Serbia include Italy, United States, Austria, Norway, Greece and Germany. Majority of FDI went into automotive industry, food and beverage industry, machinery, textile and clothing.
Blue-chip corporations making investments in manufacturing sector include: Fiat Chrysler Automobiles, Bosch, Michelin, Siemens, Panasonic, Continental, Schneider Electric, Philip Morris, LafargeHolcim, Pepsico, Coca-Cola, Carlsberg and others. In the energy sector, Russian energy giants, Lukoil and Gazprom have made large investments. The financial sector has attracted investments from Italian banks such as Intesa Sanpaolo and UniCredit, Crédit Agricole and Société Générale from France, Erste Bank and Raiffeisen from Austria, among others. ICT and telecommunications saw investments from likes such as Microsoft, Telenor, Telekom Austria, and NCR. In retail sector, biggest foreign investors are Dutch Ahold Delhaize, German Metro AG and Schwarz Gruppe, Greek Veropoulos, and Croatian Agrokor.
FREE ZONES OF SERBIA
The place for your investments. Favorable geographic position:
Serbia is situated in the Balkan peninsula and represents a true connection between East and West Europe, South and North Europe
It covers an area of 88361 km² where lives approximately 7,5 million inhabitants
Temperate continental climate with worm summers and cold winters
It is positioned at the border of the EU and the intersection of the Pan-European corridors 10 and 7
Fenced and marked part of the Republic of Serbia's territory where activities are carried out with many business benefits. Free zones represent highly developed centers of technology, telecommunications, modern infrastructure, industry and logistic support.
Being a Balkans country, Serbia is the connection between East and West.
Why do the free zones exist?
Free zones contribute to savings through different benefits
To increase employment
To attract investments to help regional development
Logistic centers (all needs and services at one place)
Investing in Serbia – Free zone benefit
Fiscal benefits:

VAT exemption on entry of goods into the free zone, as well as on transport and other services which are directly associated with that entry of goods.

Exemption from payment of VAT on trade of goods and services in the free zone.
Exemption from payment of VAT on trade of goods between the users of two free zones.
Users of free zones who perform production activities in the zone are exempted from paying VAT on energy consumption.
Exemption from some taxes for foreign direct investments.
Exemption from payment of customs duties and other import duties for goods intended for carrying
out activities and construction of facilities in the free zone (raw materials, equipment, construction
materials).
Financial benefits (free movement of capital, profits and dividends)
Efficient administration (one stop shop)
Simple and fast customs procedures (each zone has a Customs Administration Office)
Local Government Incentives – exemption from certain local fees and taxes
A set of services is available to users under preferential terms (transport, loading, reloading, freight
forwarding services, insurance and reinsurance, banking services, etc.)
Doing business in the zone
Exports of goods and services from the zone and imports of goods and services into the zone shall be
unrestricted and shall not be subject to quantitative restrictions
Goods imported or exported from a free zone are treated as customs goods
Control of goods is carried out by customs authority, and the zone users are obliged to ensure
implementation of customs control as well as to keep proper records of goods
Goods from the free zones which are released for the free circulation on the territory of the Republic
of Serbia, shall be subject to payment of customs duties and other import duties
As an additional benefit for companies to streamline their operations, many municipalities offer the possibility of operating within designated industrial zones. Such zones offer advantages such as a streamlined process for obtaining land, favorable geographic locations and ready-to-use infrastructure. Currently, fourteen of those industrial zones are also licensed free customs zones: 
Free zone "Pirot" and "Subotica"
Michelin – Tigar Tyres, production of car tires
Tigar Rubber Footwear, production of footwear and rubber products
Tigar Technical Rubber, production of rubber products
Novadis, production of sport fishing accessories
Elisa Pro, production of herbal and cosmetic products
RBL, production of food products packaging
Loher Elektro (SIEMENS), production of parts for wind power generators
Dunkermotoren GmbH, production of motors for blinds
Norma Group, production for industrial applications and distribution
Contitech Fluid Serbia, production of parts for automobile industry
Free zone "Novi Sad" and Zrenjanin"
Belarus-Agropanonka, assembly and storage of tractors
NIS Gazprom Neft – part of Oil Refinery Novi Sad
Free zone "Šabac"
SBE Serbia (Vescovini Group), production of car parts
"FAS Free Zone "Kragujevac
FIAT Automobiles Serbia, automobile industry
subcontractors of FIAT Automobiles Serbia: Magneti Marelli, Magneti Marelli  Automotive, Sigit, H.T. &
L.Fitting Serbia, Johnson Controls Automotive, JCMM Automotive, PMC Automotive
Free zone "Smederevo"
Metech, production of sheet metal
Kolpa – production of bathtubs, shower cabins and hydro massage appliances
LK Armature, production of steel pipes
Dräxlmaier Automotive, production of parts for  automobile industry
Free zone "Užice"
Copper mill Sevojno, production of copper and copper alloys
Impol Seval Aluminium Rolling Mill a.d. Sevojno
Atlas, manufacture of furniture
Copper Com, trading and production of copper
Free zone "Kruševac"
Trayal Corporation, production of rubber and chemical products Map of free zones in Serbia Subotica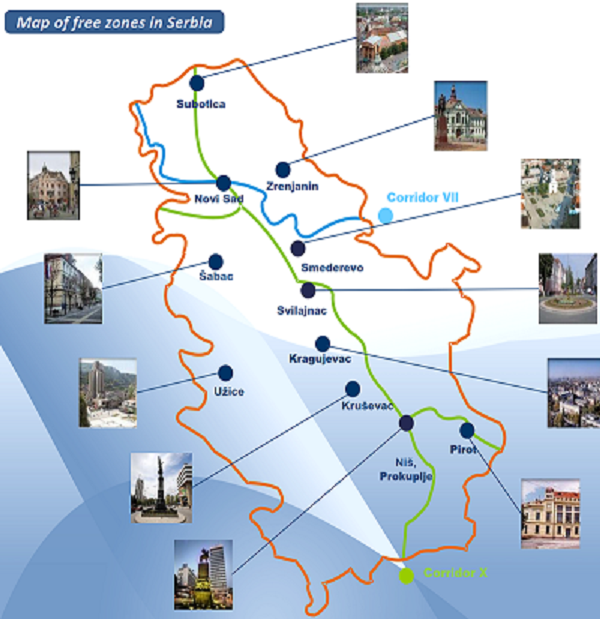 Free Zones Administration
The Free Zones Administration is established in 2008 as administrative entity within the ministry in charge of financial affairs, in order to carry out state administration activities in the field of free zones
Related to the development of zones consistent with the interest of the state:
Implements national policy for the development of free zones in order to increase the inflow of FDI and employment
Consider the applications for approval of the designation of the area of the zone and submit its opinion to the ministry in charge of finance
Provides professional assistance to investors during the decision-making process concerning investments
Arranges meetings between interested parties and company for zone management
Cooperates with foreign institutions and free zone experts
Participates in the preparation of regulations in the field of zone operations
Related to the promotion of zones
Cooperates with the Serbian Chamber of Commerce, the Agency for Foreign Investments and Export Promotion (SIEPA) and other organizations with regard to the promotion of investments and operations in the zones
Provides necessary information to investors on benefits of free zone investments
Creates free zones business database
Related to the control and supervision of zones
Reviews reports on zone operations and proposes their adoption to the Ministry of Finance and
Economy
Proposes to the minister in charge of financial affairs form and content of the application
concerning granting approval for establishing zone area